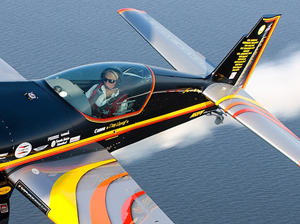 Planes will be swirling and soaring through the air at the FREE Truckee Tahoe AirShow & Family Festival (TTAS&FF), "A Salute to Veterans" themed event. Aviation Highlights from 2014:
Featured 2014 Aerobatic Pilots include six-time member of the US Aerobatic Team, Patty Wagstaff; dare devil hang-glider Aerobatic Pilot, Dan Buchanan; aggressive style performer, John Melby; courageous pilot best known for his comedy act and Jelly Bean sponsored Kent Pietsch. The AirShow will also welcome the U.S. Air Force Parachute Team "Wings of Blue". The team's awe-inspiring and precise performance features jumpers who fly streamers, smoke canisters and carry game balls. A true crowd pleaser is their flying of a massive 800 square foot American Flag to open high profile events like air shows throughout the world and professional sporting events such as the Rose Bowl and NFL and MLB games. Returning to the TTAS&FF for the 3rd year is the Red Star Formation Team, a Precision Warbird Mass Formation Display Team, and new for 2014 is an OV-10 Bronco flying performance. Other aviation highlights include numerous static displays, a helicopter and radio-controlled giant scale planes flying throughout the festivities.
Activities: Featured festival activities include a Kid's Zone, a Vendor Village, Food and Beer Garden, Speaker Forums and FREE flights for Kids ages 8-17 on Sunday, July 16.
Funding: The Truckee Tahoe Airport District funds all the operational costs for this event. ALL proceeds go to Truckee North Tahoe youth. Free parking is available at the Airport.
Location: Truckee Tahoe Airport • Map It
Date/Time: Saturday, July 15, 2015 from 8:00am – 5:00pm