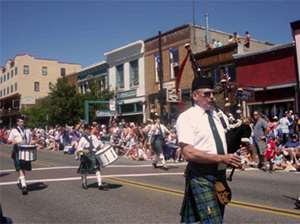 Plans are underway for another exciting 4th of July parade — the quintessential display of small town Americana. This festive and fun-filled event is always a favorite and a true Truckee tradition.
In addition to all the local entries, Truckee is very lucky to have returning again this year the Wells Fargo horse-drawn stagecoach. The legendary stagecoach is priceless, and a symbol of American history. The official team that works the Wells Fargo stagecoach love coming to Truckee and being in this parade – and always advocate for Truckee to be one of the prestigious visits in the year for the stagecoach.
Also returning is the Sierra Highlanders Pipe Band. In full Scottish attire complete with pipes and drums, this popular group performs at many major state and community events throughout Nevada and Northern California.
Truckee's July 4th parade begins at 10:00 a.m. at the Tahoe Truckee Unified School District parking lot at the west end of town, and progresses 1-1/2 miles down Donner Pass Road into historic Truckee, ending around noon.
This year's parade theme, #TruckeeMoments, was nominated by Jason Spruitt of California 89, incorporates the popular social media movement. Truckee moments – we all have them – a day paddle boarding on Donner Lake, hiking or biking your favorite trail, a gorgeous sunrise or sunset, your dog playing in the river, or celebrating the 4th of July in Truckee! The moments are endless and we are asking parade attendees and participants to share your love of Truckee and take pictures along the parade route, post them through social media, and tag them with #TruckeeMoments!
Location: historic downtown Truckee • Map It
Date/Time: July 4, 2015, 10:00am – 12:00pm