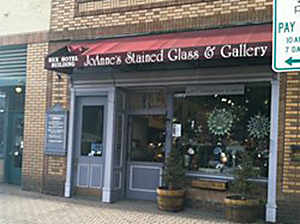 JoAnne's Stained Glass & Gallery
JoAnne's Stained Glass & Gallery is filled with beautiful stained glass stars, snowflakes and crystals. JoAnne's specializes in stained glass, leaded and beveled glass, sandblasted etched glass and fused art glass. Most of the stained glass and etched pieces are designed by JoAnne and fabricated in JoAnne's Truckee studio.
Within the store, you'll find beautiful hand blown glass bowls, lamps, hand blown glass vases and flutes, paperweights, glass ornaments, and more. We have a lovely selection of crystal, dichronic cubes, gazing balls and pyramids of flawless quality. A large collection of Tiffany and hand blown glass lamps are on display and may be custom ordered. Unusual glass garden art, hummingbird feeders and wind chimes are also available. Our beautiful fused, dichronic glass bracelets and necklaces are made by JoAnne's daughter Julie Pohler Holmquist.
–10064 Donner Pass Rd., Truckee, CA • 530-587-1280 Map It