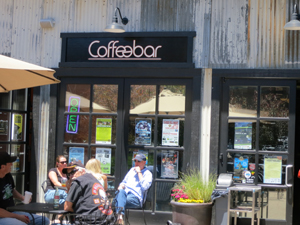 Coffeebar is an Italian coffee shop serving organic coffee and espresso, pastries, panini sandwiches, freshly made gelato, handmade European crepes, organic loose leaf tea and chai, Italian sodas and more. More than just a coffee shop, we strive to be a centerplace for our community. All of our coffee is direct trade, sustainable, shade-grown and hand-picked.
All of our proprietary organic coffee blends are selected and roasted locally in Reno by our Master Roaster, Carl Staub, each Saturday morning. Carl is one of the most prominent figures in the world of coffee, and over the last 20 years he has trained more than 1600 independent roasters in the art and science of roasting coffee, and attained more than 100 patents in the industry. Carl has studied, practiced, experimented with and truly refined the processes of coffee selection and roasting, and has traveled around the world to learn about different growing regions and their distinct coffee characteristics. His knowledge and approach to coffee selection and roasting are cutting edge, as are his methodology and his machinery. Most importantly, Carl's passion for his craft is truly unparalleled.
At Coffeebar, we offer our house blend "Italian Roast," a blend of 4-5 coffees, roasted to an Agtron rating of 33, similar to a classic French roast. We also offer seasonal estate and single origin coffees – just ask us what's in stock!
–10120 Jibboom St, Truckee, CA • 530-587-2000 • Map It