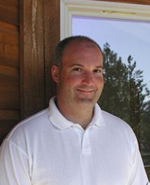 If you were to ask Bret just what he loves about his home, his reply would be quite simple, everything. As a person who is naturally drawn to the outdoors, Bret takes full advantage of all the amenities the North Lake Tahoe area offers its residents. From fishing at local lakes to skiing on nearby slopes to hiking on remote trails, it's definitely rare to find this nature lover indoors. For Bret, every aspect of his home, the picturesque mountains, crystalline blue waters, natural wildlife and even the genuine people, allow him to stay grounded and focused on what really matters.
Naturally, it's Bret's passion for home that makes it so easy for him to understand why his clients want to be here too. Growing up in Truckee and moving away to college at 18, Bret eventually realized there really is "no place like home." With nearly 300 days of sunshine a year, and world class skiing and beauty right out the back door, who could blame him?
Bret's love for home, and his down-to-earth approach to business have naturally propelled him to one of the high Sierra's leading real estate professionals. With a degree in communications, his ability to combine an emotional situation with logic and compassion helps reassure you during this potentially stressful time. Understanding your needs and unique goals is always Bret's top priority.
–17400 Northwoods Blvd Ste B Truckee, CA • 530-582-9775 • Map It