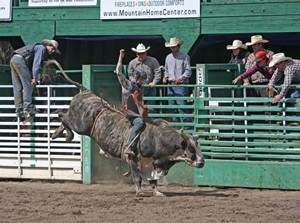 Celebrating its 40th year, the Truckee Championship Rodeo draws cowboys and spectators from all over the Western United States. Rodeo events start Saturday August 22nd with Kids Day. Kids Day is free to all children who wish to come and enjoy events planned especially for them. Children are treated to hot dogs compliments of the Truckee Donner Junior Horsemen. Friday night August 21st will be our Sponsors Dinner and Team Penning night. All Sponsors are served a wonderful dinner and are invited to participate in our evening event. This year we are returning to the much loved Team Penning! Thank you to Quincy Stables for sponsoring our event horses. Come enjoy watching our Sponsor's pen the steers! It's bound to be loads of fun! The public is invited to attend FREE of charge and may purchase a dinner for $20.00.
Saturday, August 22nd will be the first Rodeo Performance. Gates open at 3:00 p.m. and Rodeo begins at 5:00. Come enjoy the excitement of Rodeo! Mutton Bustin' will start us off and lead us to a new event for those, age 14 and up…our first annual Calf Dressing! Come put boxers on a calf! As always we'll end with the thrill of Bull Riding.
​Sunday, August 23rd will be our second Rodeo Performance. Gates open at 11:00 a.m. and the performance begins at 1:00 p.m. Once again, Mutton Bustin' starts the excitement leading up to our second Calf Dressing and ends with Bull Riding. Come join the fun on one or all days!
Location: McIver Arena, Truckee, California • Map It
Date/Time: Friday, Saturday & Sunday, August 21-23, 2015